The place has several local where you can easily satisfy your hunger or you can visit the nearby communities to enjoy the different cuisines offered by them. Here is a list of restaurants to help you in finding the amazing and most delicious food in Dumplin Valley and in its surroundings.
The Chop House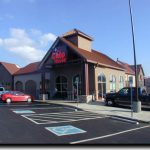 It located in the Outdoor Sportsman Place, Ste 1, Kodak.
The place is famous for seafood, steaks, American food, vegetarian food as well has it has gluten free options.
You will love the food here and your taste buds will cherish all the new food items. They offer a diverse selection of food items, quite affordable in price, family friendly as well as an intimate place for couples. The interior is attractive as well as comfortable and consists of fireplaces. Try their Tamale Cakes and you will become a fan of it.
Uncle Buck's Grill
It is also located in the Outdoor Sportsman Pl, Kodak.
The place is famous as an American Pub which is a great choice to spend time with your loved ones to chill out.
Food and drinks are amazing; you will enjoy each and every bit of it and will feel relaxed in the atmosphere.
Flapjacks Pancake Cabin
As the name suggests, the place is like a heaven for all pancake lovers. Being situated in Pigeon Forge, Knoxville, Sevierville, TN, Gatlinburg, and Garden City, it is your number choice for breakfast. You will definitely fall in love with their pancakes, as they have been serving the country-style breakfasts for quite some time now. You will not only enjoy their fresh, scratch made food but will also love the atmosphere in the pancake cabin. There are various varieties of Pancakes and you will want to taste each one of them. Don't miss the place while visiting the Dumplin Valley.
Russell Stover Chocolates
It is a place for all those who have sweet tooth.
It is number one dessert place in Kodak and comes at number 3 amongst the top places to eat in Kodak.
You will get jelly beans, caramel apple, ice cream, sundae, tasty treats, and other amazing collection of chocolates which you might not get anywhere else. Kids like this place as much as the adults like it. You will go crazy just by seeing the collection of candies they have. You might even get free samples and candies at much-discounted prices at this place only.
Cracker Barrel Old Country Store
The place is located in the Stadium Dr, Kodak and is famous for pleasing people with their delicious home-style cooking and gracious service which defines their country spirit. You can go there for breakfast, lunch or dinner and you won't regret your choice. They have a special menu for breakfast, lunch & dinner, kids, desserts and seasonal. It is one of the best places for all those who are looking for a place where they can find home-style country breakfast. They serve it all day long. You can easily get sweet treats like their fluffy buttermilk pancakes or can go for savory slices of their hickory smoked bacon or can even enjoy eating their freshly made buttermilk biscuits.
Chocolate Monkey
It is the second best place to have desserts in Kodak and comes in the top five places to eat in Kodak.
You will get the best homemade candies and fudge and much more at Chocolate Monkey. You can also buy other nice stuffed animal section, t-shirts and more from their store. You can always go there with your family and can easily eat shop and enjoy. Just add the place to your list in case you love eating and exploring new places.
Cracker Barrel
It is located at the Dumplin Valley Rd, Kodak and is one of the best restaurants in Kodak.
It is best known for its chicken and dumplings, turkey bacon, crackers, pie, biscuits, eggs, haddock, cornbread, drinks and other food items. They offer the best food at best price. Both vegetarians and non-vegetarians will love to dine at the place.
Pizza Place Plus
Situated in the Dumplin Valley, Kodak, they offer amazing pizzas. They are not related to any of the big pizza chains but serve as an independent outlet. You will witness different unique pizzas there.
The combination of ingredients is amazing; you can choose any of them from the menu and indulge yourself in the sinfully amazing taste of Italian pizza.
While exploring the place and enjoying eating at these outlets, don't forget to enjoy the local cuisines of Dumplin Valley.